Quarter Racing Owners of Ontario Announce Champions of 2020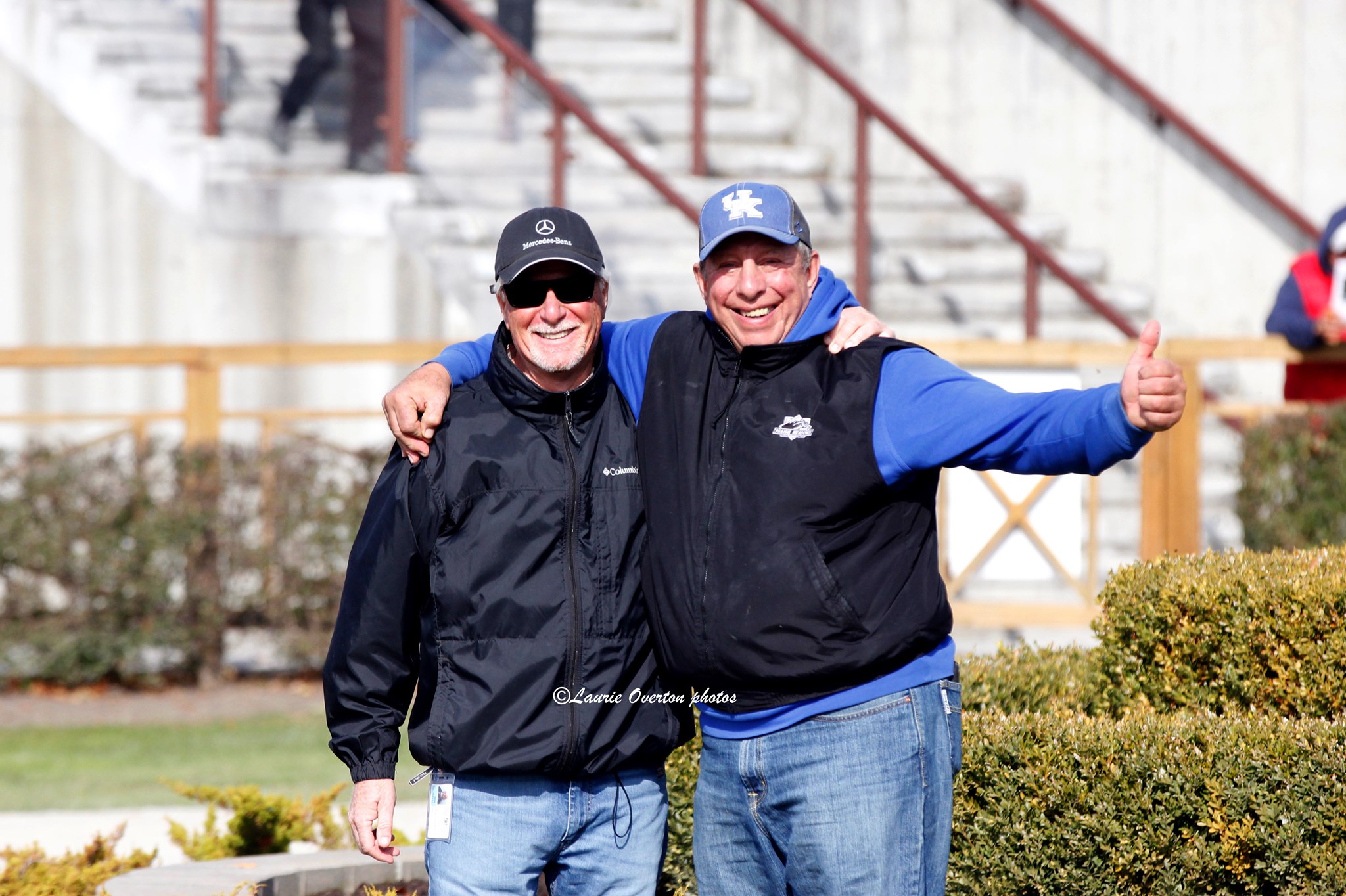 Rick Crispi wins his first High Point Owner Award
by Jennifer Morrison

It was the final day of racing for the 2020 Quarter Horse season at Ajax Downs and owner Rick Crispi of Guelph, Ontario was in second place for the season's High Point Owner Award. His horses had raced well all season under the guidance of trainer Tom Dunlap but it was going to take a victory by Crispi's homebred Jess Carolinas Award in the final stakes race of the season, the Ontario Sired Stakes Derby, to get the title.
Jess Carolinas Award obliged, putting his head in front at the finish of the $54,000 Derby, lifting Crispi to his first ever Quarter Racing Owners of Ontario Award for top owner.
"I was watching the race on the computer with my wife Donna and we hugged and danced around the room," said Crispi. "Great fun."
Crispi had previously raced horses with friend Don Salzsauler as Ivy Lane Racing before going out on his own six years ago. In 2020, his 15 starters won 14 races from 80 starts and collected 159 QROOI points edging out last year's top owner James Bogar.
Jess Carolinas Award, produced from Crispi's mare Jess Carolina, was the year's High Point 3-year-old colt or gelding.
"To be successful in racing you need really good horses and just as importantly, a great trainer," said Crispi, "Tom Dunlap is not only gifted with talent and experience, he is a very positive throwback to a time when people could be counted on to support and help one another.   Tom did a truly wonderful job in 2020 as he has every year."
Dunlap, runner-up to Jason Pascoe for High Point Trainer, was assisted on race day by Ontario horseman Greg Watson as Dunlap, who trains the horses in Michigan, was unable to come to Canada due to COVID-19 restrictions.
"Hats off to James Bogar and all the other committed and talented owners, trainers and jockeys at Ajax Downs," said Crispi. "It was my time in 2020 and I recognize clearly, that with the talent at the track the last few years, while I will be competing hard with Tom, any one of many others could also win High Point Owner in 2021.  That's what makes it all so exciting."
The board of directors of the QROOI announced the champions of 2020 on March 5 and is presenting trophies to winners and runners-up on a personal basis as the annual awards ceremony and dinner could not take place this year due to the COVID-19 pandemic. Points are awarded to horses owned by QROOI members based on top four placings in all categories of races.
On Feb. 26 Fiesty Icon, owned and trained by Rick Kennedy, was named the 2020 Horse of the Year. The Ontario sired and bred gelding, who turned nine-years-old in 2021 was also the High Point Aged Male with 39 QROOI points.
Ed Walton won his first High Point Jockey title in 2020, collecting 356 points with 35 victories in just 20 Ajax racing dates. Walton has been among the top riders in Quarter Horse racing for over 30 years, although he was away from riding for 14 years prior to 2009.
In 2020, Walton partnered up with stakes stars such as champion Country Boy 123, Ecs Greys Anatomy, Twixt of Fate, Fiesty Icon and Hanover Hill Chalsee. He also entered the AQHA the record books as the rider of Carneros, who set a world record for 110 yards on June 16 of 6.770.
The horse with the most QROOI points of the 2020 season was the Ontario-bred 3-year-old filly One Kool Dynasty. Owned by Belinda Taggart and bred by William Taggart, One Kool Dynasty had a superb season with four wins from 10 races including the Princess Derby and 44 QROOI points.
One Kool Dynasty's trainer Jason Pascoe won his second consecutive High Point Trainer title with 279 points from a meet-leading 23 wins. Pascoe's runners earned $380,932 and also included the 2020 High Point 2-year-old filly Streakinlilwagon, whom he also owns and bred with partner Byranne Langford, Sprint Series champion Carneros and Distance Series winner Spy for the Senate.
The 2020 racing season was a big one for Norm Picov's Picov Cattle Company, the High Point Leading Breeder (143 points) which bred Horse of the Year Fiesty Icon and bred and raced stakes winners Hanover Hill Chalsee and Hanover Hill Theresa. The 58 Picov-bred starters earned $212,948 and finished in the top three 31 times.
Chantelle Bourgeois won High Point Owner/Trainer with 64 points and her homebred Shake It Twice from the Ontario Sires Stakes Maturity.
Carol and Jaime Robertson's Ontario-bred Had to Be Relentless was the year's High Point 2-year-old colt or gelding with 27 points and owner/trainer Craig Spada's Jess a Sweet Surprize led all aged mares with 20 points.
The 2021 racing season at Ajax Downs is set to begin Mother's Day, May 9, the first of 25scheduled  dates.
List of QROOI Award Winners 2020
Horse of the Year        Fiesty Icon
Bruce Lawrence -Hi Point Trainer      Jason Pascoe
Runner-Up Trainer     Tom Dunlap
High Point Owner/Trainer      Chantelle Bourgeois
Runner-Up Owner/Trainer     Ruth Barbour
High-Point Jockey      Ed Walton
Runner-up Jockey      Cory Spataro
High Point 2 Yr Old    Had to Be Relentless  Carol and Jaime Robertson
High Point 2 Yr Old Colt/Gelding (27)           Had to Be Relentless  Carol and Jaime Robertson
Runner-up 2 yr old Gelding/Colt (18)            Twixt of Fate  Richard Wincikaby
High Point 2 yr Old Filly (25)            Streakinlilwagon          GFR Equine Services
Runner-Up 2 yr old Filly (14)            Jess Raven      Raven Racing Syndicate
Runner-Up 2 yr old Filly (14)            Ah Candyland Richard Wincikaby
High Point 3 Yr Old    One Kool Dynasty     Belinda Taggart
High Point 3 Yr Old Gelding/Stallion (30)      Jess Carolinas Award Rick Crispi
Runner-up 3 yr old Gelding/Stallion (27)       Eazy Street     Carol and Jaime Robertson
High Point 3 Yr Old Mare (44)          One Kool Dynasty     Belinda Taggart
Runner-Up 3 yr old Mare (33)           Hanover Hill Chalsee  Picov Cattle Co
High Point Aged Horse           Fiesty Icon      Richard Kennedy
Hi Point Aged Gelding/Stallion (39)   Fiesty Icon      Richard Kennedy
Runner-up Aged Gelding/Stallion (38)            Spy for the Senate      Milena Kwiecien
High Point Aged Mare (20)    Jess A Sweet Suprize  Craig Spada
Runner Up Aged Mare (19)    One of My Favorites  Rick Crispi
High Point Point Owner         Rick Crispi
Runner Up Owner      James Bogar
High Point Ontario Breeder    Picov Cattle Company
Runner Up Breeder     Christine Tavares
Rick Crispi (left) with Greg Watson, who assists trainer Tom Dunlap (Laurie Overton photo)